Khmer Ceramics & Fine Arts Centre opens new gallery and workshop in Phnom Penh.
In order to expand our services and respond to customer demand, Khmer Ceramics & Fine Arts Centre will be opening its new gallery and workshop in Phnom Penh on December 15 2020.
The new shop, offering pottery and clay modelling classes as well as a diverse range of high-quality ceramic tableware, decorative ceramics and unique artworks, is located at: #16 Street 172, Khan Doun Penh, 12200 Phnom Penh.
The new shop will be open Monday to Sunday, from 08.00 to 20.00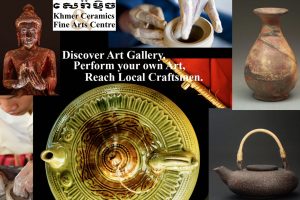 "This will be our first outlet in Phnom Penh, an exciting new venture that responds to rising customer demand for our products and activities from residents of the Cambodian capital," says Serge Rega, CEO Khmer Ceramics.
Khmer Ceramics has operated a visitor centre, pottery workshops and ceramics production in Siem Reap – Angkor since 2006, where the company will continue to operate.
"The Phnom Penh expansion marks a significant development in the evolution of Khmer Ceramics & Fine Arts Centre, reflecting the valuable support of our customers and partners in these challenging times," Mr Rega says. "We look forward to welcoming you soon in our new Phnom Penh gallery, as well as our existing arts centre in Siem Reap."
Khmer Ceramics is closely following health and safety guidelines from the Ministry of Health at all our centres and for all our activities.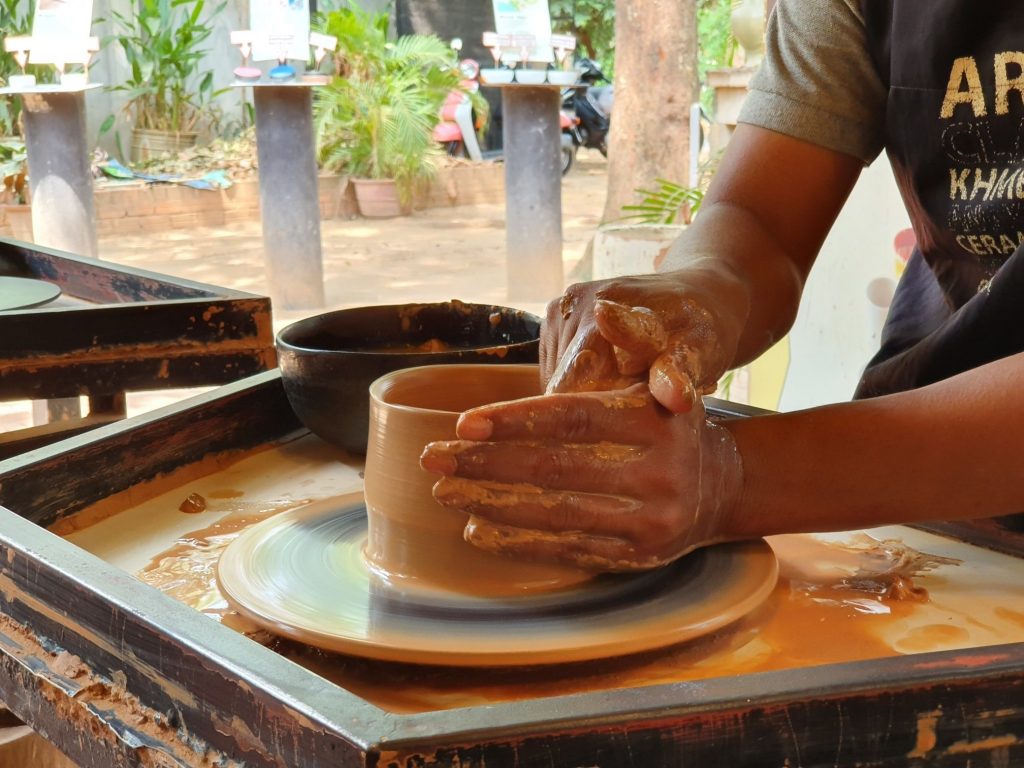 About Khmer Ceramics & Fine Arts Centre
We produce artisanal tableware, elegant home decoration pieces, spa & bathroom essentials and unique sculptures, artworks and wall decorations at high international standards. Our products are high-quality and hand-made, even at large scale production – a unique combination in the global market.
Creative and fun activities: We offer Pottery Classes, Modelling Classes and Painting Classes every day, for both adults and children (from 3+). No previous knowledge of ceramics is required. You will learn to make Angkorian bowl at the pottery wheel and use Khmer carving tools to fashion Cambodian ceramics. Our pottery class enables you to experience first-hand the ancient process of creating ceramics. Our clay is local Cambodian clay and out potter's wheels are a traditional design.
Khmer Ceramics is a social enterprise. We are dedicated to the revival of the ceramics sector in Cambodia, which was nearly non-existent in 2006 when the project started. By practicing these arts, we are ensuring the revival and survival of traditional Cambodian stoneware ceramics that were at risk of disappearing after a thousand years. We are using artisanal skills and producing high-quality products. We want to pass these skills on to future generations to provide a bright future for our community and ensure these skills are kept alive.
Our master potters and teachers are from local disadvantaged communities: Thanks to this project, we are able to provide training and create job opportunities for disadvantaged people. All of our teachers are deaf and mute. Their communication skills are amazing and they use sign language with our guests. It is very important for us to support them and a very interesting experience for our guests too.