Team Building and Incentive Event at Khmer Ceramics
Looking for a team binding, fun and creative group activity? Our team building and incentive activities in Siem Reap – Cambodia is the ideal solution.
Go back home with more than a memory from your trip.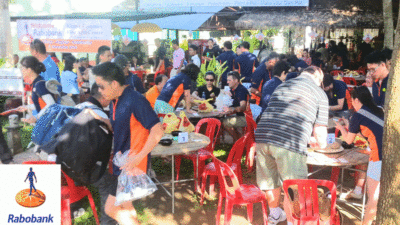 Team Building in Siem Reap – Cambodia – Rabo Bank
Siem Reap – Cambodia – DFS
You looking for Incentive and Team Building in Siem Reap – Cambodia?
Consider our center for a 
fun
,
 creative
 and 
inclusive
 pottery workshop experience in Siem Reap – Cambodia. We propose innovative group activity for company, group or organization.
Complete Incentive Team Building Package.
Immerse your team members in the local culture through exploring Cambodian art in a fun atmosphere, close to the Angkor temples. This package enables teams to visit the center, discover the art of Khmer ceramics, work together, have fun and leave with the feeling that everyone has participated in a creative project. Each participant will also go home with their own individual creation, and the team will have a collaborative work to display and be proud of. An appetizer buffet will be arranged especially for you. A short break is scheduled every hour in order to relax with a drink and enjoy all full range of delicacies prepared by our catering staff (such as hors d'oeuvre, seasonal fruit and different kinds of appetizer). Drinks are unlimited for all participants (including water, soda, beer, coffee and tea). For a unique and unforgettable experience, the center can be completely redecorated in the brand and logo of your organization. Khmer Ceramics and Fine Arts Center is conveniently located on the road to the Angkor temples.
Strengthen collaboration within the group.
This complete team-building solution enables each participant to leave with an individual piece they have created and also a huge serving bowl created by the group as a team activity. Each participant will try to create several pieces in various workshops (approximately ten pieces). These pieces will be crafted using various techniques, including throwing on the potter's wheel, modeling and coiling. After practicing these three techniques the participants will start the creation of the collective masterpiece. This work could then be exhibited by your organization at your location as a permanent reminder of what can be achieved through effective teamwork. In addition, each participant will also leave with one of the pieces they created individually – their own coffee or tea cup, plant pot or decoration…
Large and small incentive & team building in Siem Reap – Cambodia.
With ten years of experience and expertise, we are a leader in hosting team-building groups in Cambodia. We can accommodate small groups of around 20 participants up to several hundred. In all cases we offer a personalized service adapted to your needs and requirements. Please inform us as soon as possible for group team-building events so that we can reserve space and time to accommodate you.
During this activity each participant will:
Visit the center
Manufacture ceramic pieces on a potter's wheel
Manufacture pieces using the modeling technique
Manufacture pieces using the coiling technique
Participate in the realization of collaborative exercises
Enjoy a buffet with complementary drinks and savor the appetizers prepared by our caterer
Enjoy decorating the center in the brand of your organization
Going home with a piece created by themselves
The team will experience:
Lowering stress through fun
Trying something new and engaging
Enhanced group communication
Building stronger relationships
Improve performance in a team-based environment
Aligning around team goals
Building effective working relationships
Returning to your organization with a creative artwork
The cost for this incentive team building in Siem Reap – Cambodia is $40 USD per person (minimum 20 persons). Consider our regular Cambodian pottery class for an alternative team-building activity on a budget. Please complete the information below for more information or to ask for a quotation.