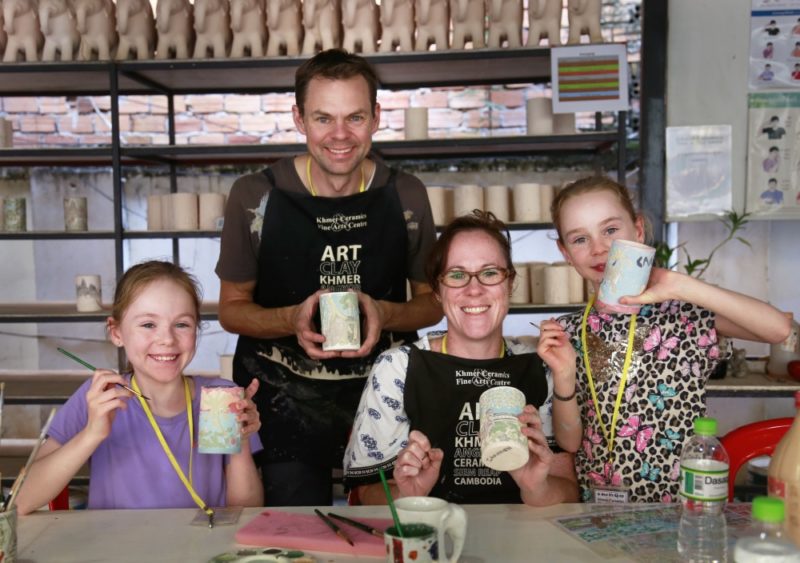 Join us for a unique paint a pottery activity!
Details about the Paint a Pottery Activity
class
Duration: 1h45 min.
Skill level: No skill required.
Schedule: Daily at 8am, 10am, and 2pm.
Extra: FREE Pick-up / Drop-off

Age: Adults and kids (from 3+)
Price per person: $25 USD
Book now and pay later at the centre
FAQ Classes & Activities

Booking Information

About Khmer Ceramics

Price & Discount

Learn about Cambodian art and design at a hands-on ceramic painting workshop in Siem Reap, decorating a pair of mugs. This will offer you the opportunity to create your very own design as a souvenir from your visit at our unique place. With instructors on-hand to share the history and techniques of Cambodian painting, you'll watch a demonstration of traditional ceramics making, and experience a side of local culture that many visitors are missing. the expert potter assists you to create Khmer – Cambodian designs. Your masterpiece will be ready for pick-up the next day, along with a potter's diploma, after firing in a kiln overnight. This 1.45-hour experience includes hotel transport by tuk-tuk. It is a unique opportunity to interact within a local community; and a very unique and genuine thing to do in Siem Reap.

Hotel pickup and drop-off by tuk tuk.
A "Cambodian Potter Diploma".
Local guide and pottery painting teacher.
Workshop visit.
Pottery mugs (3)
All taxes, fees and handling charges.
Bottle of water.
All art materials.
Painting activity.

Depart Point:

Your Hotel in Siem Reap.

Return Details:

Your Hotel in Siem Reap.

What to Expect:

At your selected time, you're transferred by tuk-tuk on a quick ride from the city center to the studio. There, a professional local artist demonstrates how to make Cambodian masterpieces. Under the expert eye of your instructor, have a go to paint on potteries and ceramic. Many different style are proposed from Cambodian and Temples inspired design, to modern technique. Afterward, you're returned to your hotel by tuk-tuk.  Your pottery will be fired in the kiln overnight and will be ready for pickup the following day after 4pm safely packed along with a potter's diploma, so you can display your souvenir for your friends and family back home.  If you prefer to have your pieces shipped home, it can be arranged at your own expense.

Additional Information:

-Confirmation will be received at time of booking. -Your piece(s) will be fired in a kiln overnight. -The next day at 5:00 pm, your piece(s) will be available for pickup. -If you prefer to have your pieces shipped to your home address it can be arranged, the cost will at your own expense.

Cancellation Policy:

-For a full refund, cancel at least 24 hours in advance of the start date of the experience. -Cancellation less than 24 hours in advance will not be refunded in any case.

Not Included:

-Gratuities. -Delivery of the piece the next day. -Cost of shipping your piece(s) to your home address. -Food and drinks.
Scroll to Top