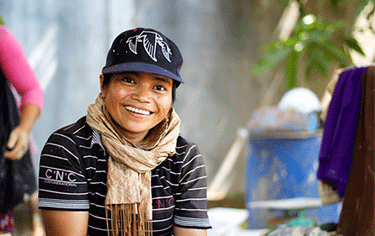 32 years, Clay Technician.
I started to work very young; we do not have the opportunity to go at school. At this time the peace was not fully settled in Cambodia people were very poor due to this conflict situation. We live few hundreds of meters from Angkor Wat which was for us a simple temple; I was not aware about the magnificence of our culture.
I discovered my own culture through the work at Khmer Ceramics, we are teach about what our ancestors done, and how they done it. It is really a down to earth experience, as working with Khmer Ceramics gives us a good living standard, due to the good working conditions. On the other part we learn a lot regarding our culture. I'm very proud to participate at the revival of my own culture. We must maintain this very well as our knowledge is traditionally transmitted by teaching our own experience to trainees. We really have a future in here and we can build our family I a secure environment.
27 years, Guest Relation Manager.
I learned the basic at pagoda school, following Monks teaching. I began to work with Khmer Ceramics as a simple seller without background. I was taught about the skill of Cambodian potter's. I was and still subjugate by the beauty and magnificence of Khmer original porcelain. The direction saw my skill about ease to communicate with peoples; they offered me the opportunity to be Guest Relation Manager.
Such opportunities are unique, there is very few position like that in Siem Reap. Each single day I have the opportunity to learn about my culture, our culture is also welcome the visitor and taking care of him. It is stunning to see how we can participate about the revival of our own culture. Thanks to the project, we can make that with a social security and be well regarding our future.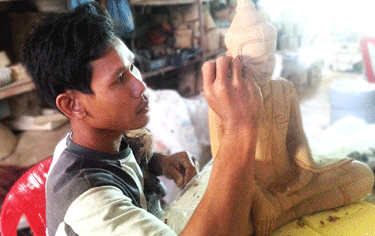 34 years, Prototype Designer.
I do not had the chance to go at school, we just learned how to read and write at home. When I began to work, we were thinking about feed our family, no matter about the work we do. I saw a job posting on the road, and I joined the Khmer Ceramics Team in 2006. At the beginning, it was a work like another, just with better working standard. Step by step, I grow, started to understand and like what I was doing. It made me alive, I really discovered another way to live. From simple handy worker, I learned the skill of prototyping, learned how to carve, the different matters, how to use them, very exciting things My family life also completely changed, I increased our financial incomes which is good; however my biggest benefit was that I constructed myself, and discovered how important each of us is. It is good for all my family to live in security.
I'm from Kompong Chnang region, were pottery is a tradition; however technique is very simple and we have forget many of the teaching from our ancestor. This is due of the many years of conflict in our beautiful country. In 2006, I met the founder of the Khmer Ceramics centre in my province; I was immediately fascinated by the idea to revive the art and knowledge of my own ancestors.
The founder had made many researches about our techniques and knows many things that we forget; he was also very attentive to my knowledge, and I bring him some pieces of the puzzle to reconstruct our big family of potters. I decided to follow the crew to Siem Reap were things are happened, and it was a great decision. I'm a part of this wonderful project, and the revival of ceramics come through my hands; each single day I teach to trainees and have the opportunity to seed the future of the great art of Ceramics in Cambodia. I have since build my family, in fact I realize my dreams here!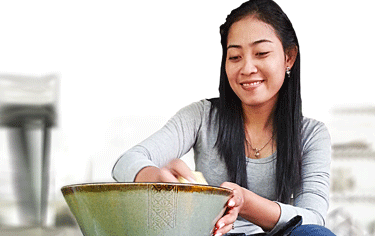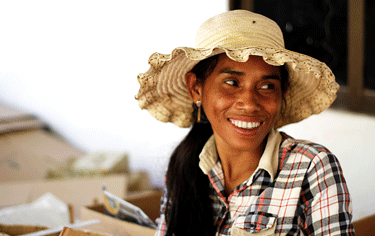 I was raised in the temples of Angkor, in Angkor Kroy village, when tourist begin to come for visiting our Angkor Temples I spend my days try to sell them some bracelet we done at home. I'm the older daughter of our family, so I always looking for ways to earn living to feed our family. It was a little hard to see and work in the temples build by our ancestors knowing nearly nothing about our history, our roots.
I found a job with good condition at Khmer Ceramics, so I take it. I was totally amazed by what I discovered in here! I began to be really passionate about our culture. I devoted myself in this passion, I was also released from the financial pressure to feed my family as condition in here are exceptional. I worked full time on the revival of Cambodian porcelain with our master and work on the conception of Artisan's collection.